Wind Turbine / Thermal Solar Panel Inspection / Pipeline Inspection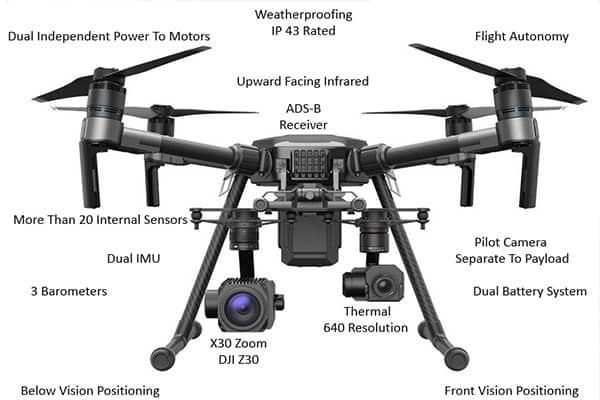 Drone Panora Solar Aerial Inspections allow for faster, safer, and more accurate site inspections that help provide actionable information needed to reduce O&M costs and increase plant productivity.
Traditional thermal inspections may take days and can involve several technicians, depending on the size of the solar field. Contrast that with a drone that can be launched in minutes by a single technician. A drone also can inspect multiple wind turbines in the time it used to take to climb just one. The use of a drone also eliminates the risk of inspectors being injured as they climb on structures or use harnesses and ropes to maneuver around a turbine, a job that could take days.
A trained technician begins a drone inspection by connecting the drone to the RTK, a satellite navigation technology used to enhance the precision of position data derived from satellite-based positioning systems such as GPS. RTK uses measurements of the phase of the signal's carrier wave as well as the signal's information content and relies on a single reference station to provide real-time corrections, providing up to centimeter-level accuracy. The technique enables the drone to fly more accurately and stay stationary when hovering and taking images, resulting in more accurate data and fewer run-ins with turbines or solar panels.
Thermal and high-resolution imagery/data help the thermographer identify, classify, and localize each anomaly in a clear and consistent manner, and understand the impact of its performance on the system. Once the data is analyzed by experts back at the office, it is shared with the end-user, who then has a complete picture of the site and what needs to be done to repair the system.
Bridge Inspections
A remarkable revolution in the inspection of bridges and other infrastructure is the use of drone aerial photography and video which is recognized as a safer and cheaper option to alternatives. Aerial Photography using Drones can save time, cut costs and drives efficiency. Using Drones and onboard technology provides essential improvements over the traditional methods of bridge and infrastructure inspection.
Using drone aerial photography and video for the process of bridge inspection is an industry game-changer. Aerial Photography reduces workforce risk because they do not need to climb high, risky and hard-to-reach areas and infrastructure. Drone aerial photography makes it easier for workers and engineers to reach and inspect the bridges' hardest-to-reach sections at any time with little effort or advanced planning.
Building and Roof Inspections
A building survey conducted with aerial photography performed by drones helps identify and locate imperfections or damage to buildings. Aerial roofing surveys can include high-resolution images revealing defects in gutters, parapets, skylights, and more. Aerial inspection with drones reduces disruption to regular business and significantly reduces dangers associated with working at height. Aerial inspection of buildings and roofs with drones is usually completed much more quickly than traditional inspection methods.
Safer, Quicker, Cheaper Building & Roof Inspection
Drones can fly near buildings and get a view of difficult locations where other means of access may not be practical, cost-effective, or safe. A drone can provide detailed videos and photos of roofs and buildings. Hard-to-access areas can be seen up close without having to use additional personnel or equipment. Infrared photography can help identify costly heating and cooling leaks.
Large commercial buildings
Steep residential roofs
Highrise buildings
Tower Inspections
Drone Panora Aerial Photography provides high-resolution photography and video of power and cellular transmission infrastructure for inspection purposes. Expedited services with a 24-hour turnaround are possible. Companies can make quick help capture visuals that aid damage assessments of Wind Turbines, Cell Towers, and Solar Panels.
Aerial Inspections can be done more quickly and safely with drones than having personnel climb towers. Live streaming of aerial photography is also possible.